The Best Steam Mops to buy in 2020 – Reviews and Buying Guide
Steam mops and floor steam cleaners are no doubt one of the top modern floor cleaning solutions for home owners, good for the health and offers easy cleaning.
Make no mistake about this,
The best steam mops of today are top quality floor steamers and cleaners with great floor cleaning abilities for your tile floors, hardwood or laminate floors.
A study completed by the University of California Davis Medical Center found that traditional wet mops only reduced 30% of the bacteria present before cleaning, while microfiber mops (steam mops) reduced 99% of the bacteria.
Whats more interesting? Having one of the best steam mop opens a whole new world to your floor cleaning.
Chances are that you are searching for a good steam mop for your hardwood floor, or just in need of the best floor steamer for your general floor cleaning needs.
With shopping for a steam mop, we spent hours looking for the best models available. We looked for the best steam mops on the market, comparing dozens of models and keeping in mind different budget requirements, flooring types, and household messes (pets, kids, etc.) We compared features, specs, user reviews, and expert analysis.
The Best Steam Mop Reviews 2020: Top Tile and Hardwood Floor Cleaners on the market
Steam mops claim to work without chemicals or less chemicals than other cleaning methods, but can they still handle tough-to-tackle cleaning jobs?
Here then is a reviewed list of the best steam mops to buy in 2020:
The best steam mop for Hardwood floors.
This little steam mop is packed with features that make it one of the best steam mops on the market.
you can buy from Amazon US, UK, CA, AU and Best Buy with prices lower when discount is applied – Use The Button Above.
We all know a good steam mop for wood floors have to be powerful enough to do a good job of cleaning, but adaptive and gentle enough to protect hardwoods, and this model from Bissell is well aware of that.
The Features we love.
First things first, the Bissell 1940 Powerfresh Steam Mop has a Smart Set digital variable steam controls, which allows you to customize your cleaning in three different settings – low, medium and high.
Depending on the cleaning task or the type of cleaning job want, you can change the setting to meet the steam. While low is great for a simple and easy mop job in a dusty dining room, the high setting is great for stickier messes that needs to be broken down a bit more.
The BISSELL Powerfresh 1940 features a built-in Easy Scrubber for tough messes and variable digital steam control that lets you tailor steam flow to safely clean and sanitize a variety of hard floor surfaces.
Safety and odor Checked.
The Bissell powerfresh steam cleaner boasts of been able to kills 99.9% of germs, which a normal mop simply won't do. In addition, there is a spring breeze odor eliminating fragrance disk, should in case you do not want to miss the fresh clean scent of a regular mop and soapy water.
Bissell PowerFresh Steam Mop 1940 PROS and CONS.
PROS.
The large, removable reservoir tank makes it possible to clean for a long period of time and saves time.
Has a powerful steam blast to tackle tough grout cleaning jobs.
CONS
You cannot add cleaning chemicals into the water tank.
Recognized as one of the best selling and most popular steam mops available, coming at the top position as the best steam mop you can buy in 2020 will not in any way be surprising to most home owners.
Overall, the Bissell Powerfresh Steam Mop 1940 is an easy to use maneuverable steam mop, that is good for both light mops, cleaning grout and everything in between.
A multipurpose steam cleaner that does the job perfectly well. The best Floor Steamer, Tile Cleaner, Bathroom and Hard Wood Floor Cleaner on the market.
you can buy from Amazon US, UK, CA, AU and Best Buy with prices lower when discount is applied – Use The Button Above.
The Bissell 1544A Powerfresh Lift-Off Pet Steam Mop is one of the most versatile floor steam cleaner on the market right now, and is able to serve as a floor steamer, tile cleaner, bathroom cleaner and hard wood floor cleaner as well.
It features a lift-off cleaner that can be used with more than a dozen attachments including a window squeegee, fabric steamer, grout cleaner and detail brushes to deep-clean just about anything.
The Features we love.
The mop head has an integrated scrubber for tougher spots and scent discs for a fresh-smelling clean as well as a snap-on scrubber brush, which is perfect for reaching into grout, as well as scraping off tough spots like crusted food or gum.
Talking about versatility, the Lift-Off features enables you to make full use of a 13-piece attachment set, and provides plenty of power to back them up. In addition, this steam mop is also one of the only options with a padded fabric attachment for upholstery and curtains, plus, the microfiber cleaning pads are washable.
Whats in the box.
(1) microfiber soft pad, (1) microfiber scrubby pad, (2) Odor Eliminating Fragrance Discs, attachable water cup, 13 tools with a tool bag, and a microfiber towel.
Bissell 1544A Powerfresh Lift-Off Pet Steam Mop PROS and CONS.
PROS.
It has a longer 25-foot power cord and heats up in under 30 seconds.
The Lift-Off Pet model features a 2-in-1 steam mop, allowing you to tackle pet messes both on and above your floors.
CONS
Heavier than the previous powerfresh steam mop.
Overall, If you want a steam mop that you can put to work on a lot more than sealed flooring, the Bissell PowerFresh Lift-Off Pet Steam Mop is about as versatile as it gets. Clean up those tough messes with a steam mop. With swivel-head models that don't need water buckets or squeegees, steam mops are great for removing those hard-to-reach stains.
The Best Cheap Steam Mop for tile and hard floor. A Hard Floor Cleaner for Cleaning and Sanitizing
Interestingly, this mop comes with many of the key features we looked for in a mop.
you can buy from Amazon US, UK, CA, AU and Best Buy with prices lower when discount is applied – Use The Button Above.
When it comes to a floor steamer or a good steam mop that can clean both tile and hard floor that does not cost much, the Shark Steam Pocket Mop Hard Floor Cleaner is a best seller. Loved by many home owners on a budget, this is no doubt the best cheap steam mop any home owner can buy.
If what you are looking for is a floor steam cleaner you can get at a great deal, the Shark Steam Pocket Mop is our top pick, coming at a price lower than $60.
The Features we love.
The pure no-chemicals-added power of heat and water helps you sanitize your floor while cleaning it. Also, it heats up in less than a minute (30 seconds, to be exact) and our test floors were dry in around two minutes.
They also have these grippy rows sewn in, which work like those Rubbermaid cleaning cloths. They scrub the surface as you move the head, so you don't have to keep running back and forth over the same area.
As with the rest interesting features of this floor steam cleaner, the new inbuilt steam spray feature by Shark is able to blast steam from the whole pad to one specific area, so you can tackle a problem spot without making puddles.
Shark Steam pocket Mop Hard Floor Cleaner PROS and CONS.
PROS.
A cheap steam mop that outperforms its price. Its one of the best steam mops you can get for its price.
The double-sided cleaning pad on the Shark – Steam Pocket Mop means you can scrub the tough messes without tracking any soil to the rest of the floor.
CONS
to fill or refill the tank, you will have to lay the mop sideways.
steam is not released automatically, you will have to manually press push to release steam.
A top floor cleaner that vacuums and mops at the same time, so you don't have to clean your floor twice.
Weight: 10.1 pounds | Tank capacity: 12.8 ounces
you can buy from Amazon US, UK, CA, AU and Best Buy with prices lower when discount is applied – Use the button above.
This combo cleaning machine is great for steaming or vacuuming any smooth tile or wood floors. Whats more interesting? the both features are simple and easy to use.
Even though you can vacuum and steam in the same unit at the same time, they're also kept separate by design, so you won't be vacuuming up moisture, and you won't be mopping up any dirt.
Who is this for?
Why keep two appliances around when one can do the job? This floor cleaning machine (vacuum cleaner and floor steam cleaner) is ideal for families with kids that spill food or pets that are constantly shedding or tracking in mud.
The Bissell Symphony All-in-One Vacuum and Steam Mop is obviously the best option for those who do not wish to have lots of cleaning machines; vacuum cleaner, floor steam cleaner or steam mops taking up space in the house. This is a single floor cleaner that does both the vacuuming and floor steaming job perfectly well.
The Features we like.
The Bissell Symphony has two-level steam control, and easy-to-use digital controls with a 25-foot power cord. Additionally, there are four cleaning pads attached to this unit, two of which have scrubbing strips for a deeper clean.
With the Symphony, you have the ability to vacuum and steam clean at the same time. Most users don't use both tools at the same time, but instead tend to vacuum then steam clean. A carpet glider is available separately. It heats up and produces steam in just 30 seconds
You can also use the vacuuming function of the Symphony on your carpets and area rugs. Although it's not advertised as a perk, many home owners admits to using this cleaning machine as their everyday vacuum for all surfaces, and not just on hard floors.
Bissell Symphony 1132A Steam Mop and Vacuum PROS and CONS.
PROS.
There's no need to sweep floors before breaking out the steam mop. It uses microfiber mop pads and is best for use on hard, sealed floors.
Although this unit can do both vacuuming and steaming at the same time, we recommend you do both, one at a time.
CONS
The dual function means it's a bit heavier than other steam mops at just under 10 pounds.
The unique placement of the vacuum head sometimes makes it difficult to get into corners, since all of the suction is in the center.
A digital steam mop that cleans hard floors like a genius.
Weight: 5.78 pounds | Tank capacity: 11.83 ounces
you can buy from Amazon US, UK, CA, AU and Best Buy with prices lower when discount is applied – Use The Button Above.
If you are looking for a steam mop that will let you clean through larger swaths of sealed flooring quickly, then the Shark Genius Pocket Mop System (S5003D) is one of the best steam mop for large floor cleaning on the market right now.
With this steam mop, it becomes very easy to change out a dirty cleaning pad for a fresh one, an important feature for larger floor cleaning jobs that requires multiple pads.
How to do this.
You press a small lever with your foot, let the folded-over Genius pad flip open onto the floors, and shimmy the mop head out of the pad. You can then flip the pad over to use the back side or click a fresh pad into place, all without touching it with your hands—it's faster, cleaner, and safer, especially while the mop is still hot.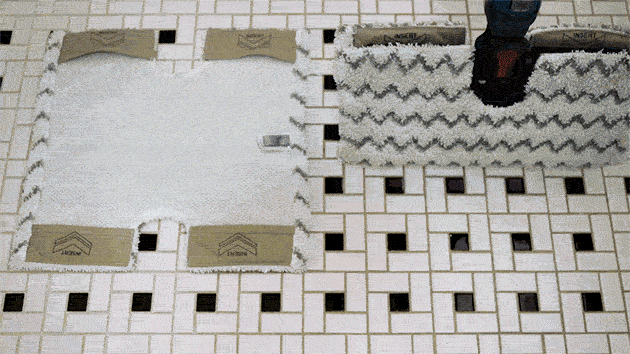 The Features we love.
Featuring an intelligent steam control technology, swivel steering, and quick-release cleaning heads, the Shark genius professional steam pocket mop is perfectly equipped to tackle all of your tough hard floor surface cleaning tasks on laminate floors, bamboo floors, hardwood floors, marble floors, tile floors, stone floors, and many more.
The Shark genius professional steam mop has an intelligent steam control that gives you the flexibility of three steam settings: light, medium and high. While the light is for dusting or cleaning more delicate surfaces, the medium works for everyday cleaning, and the high = more steam for tougher cleaning jobs
Hence, the ability to choose the ideal setting for your specific floor cleaning needs including Dust, Mop, and Scrub becomes really easy. The mop is also lightweight, and anyone can easily use it. The pure no-chemicals-added power of heat and water helps you sanitize your home while cleaning it, leaving your floors spotless and safe.
Shark Steam pocket Mop Hard Floor Cleaner PROS and CONS.
PROS.
The hands free pad technology eliminates the problem of putting on gloves to take off the dirt grip pad when you're done mopping or cleaning.
No need to hold down a button when dispensing steam. At a single press of a button on the body of the mop, constant steam is released.
Moderate heat from this mop makes it a good model for floor cleaning, if you have children playing around you or pets running after you as you clean.
Lightweight and flexible enough to be used on laminate, bamboo, hardwood, marble, tile, and stone floors, as well as cleaning carpet and rugs (with included Carpet Glider).
CONS
The water tank integrated into the body of the mop, unlike most steam mops where you have a removable water tank.
steam is not released automatically, you will have to manually press push to release steam.
Overall, the Shark Genius is a top rated hardwood steam cleaner, a smart steam mop and floor cleaning machine that has the ability to steam like there's no tomorrow. With 3 heat options and an extra duty steam blaster, the Shark Genius has the tools to clean your home in a snap.
Canister Steam Cleaners: What are they good for
Canister steam cleaners are powerful floor steamers or floor steam cleaners for tougher cleaning jobs and larger floor cleaning projects. They can handle most floors, with extra-large attachments. Additionally, canister steam cleaners have got more cleaning power and pressure than a mop, which makes them a for deep cleaning tile floors and grout.
You can even use a canister system on concrete walks and garage floors.
To even make them more powerful, canister cleaners sport larger, heavier-duty versions of the attachments sold with the regular handheld cleaning systems. And unlike handheld systems, they really do have the power to clean grills, car parts, hard water deposits, and built-up kitchen grease.
The best canister steam cleaner on the market.
A heavy duty steam cleaner with 18 Accessories – All-natural and chemical-free pressurized steam cleaning for most Floors, counters, appliances, windows, autos, and even more.
you can buy from Amazon US, UK, CA, AU and Best Buy with prices lower when discount is applied – Use The Button Above.
This canister cleaner pumps out 48-psi, and has an extra-large tank that can provide you up-to 45 minutes of cleaning time. The steam trigger has a lock function, so you can have constant steam without holding your finger down the whole time.
The attachment set includes extension wands, a mop head with microfiber cloths, and plenty of brushes and bristles to clean the rest of your house.
Overall, the McCullough is a powerful cleaning solution for floors, windows, appliances, and pretty much everywhere else in your house or car. The best part? for all of the extra cleaning power you get, the price costs about the same as a steam mop.
What is a Steam Mop Good For? Reasons to use steam mops
Unlike the regular mop, steam mops make it easy to clean and sanitize your hard floors, without the need for detergents that can contain hazardous chemicals.
1 – Hard Surface Penetration
Considering the fact that hard surfaces are porous, steam cleaning is one way to penetrate the surface to remove embedded grime. The physical bond between soils and the surface you are cleaning is loosened by the heat from the steam vapor, what this means is that, dirt and dried food spills can be removed more effectively without the need for the elbow grease.
2 – Killing Germs
Since floors can harbor bacteria such as Salmonella and E.coli in lesser quantities, by contact with shoes or spills, at a nice temperature high enough, steam vapor can kill bacteria, dust mites and mold spores.
Many of the steam mops we tested claimed to kill 99.9% of bacteria in sanitation studies. Although there was no bacteria culture performance by us, it is true that heat above 212° will kill most microorganisms.
3 – Its a Healthy Cleaning Option
Even though household bleach is an EPA-registered disinfectant that's often recommended for disinfecting, the truth still remains that; the fumes can irritate the lungs and mucous membranes. With steam cleaning (using a great steam mop obviously), sanitization without exposure to toxic chemicals becomes possible, which is a very good thing, especially if you have young children or pets crawling around on your floor.
4 – More dirts are captured through cleaning
Steam mops, unlike the conventional mop are able to capture more dirt and dust even when you are not using the steam option, and this is possible because of the microfiber pads present.
Is a steam mop right for your flooring type?
Unlike many cleaning tasks and cleaning solutions, using a steam mop requires absolutely no chemicals. Instead, the steam mop heats the water, the heated water then loosens the dirt, and a microfiber pad attached to the floor steam cleaner head absorbs the dirt.
Generally, steam mops are suitable for all types of hard flooring system, but not without its flaws. Most hardwood and laminate floor manufacturers recommend against using steam mops, and doing so can void your floor's warranty.
Although, majority of the top steam mops say they can be used on "sealed" wood floors, some manufacturer completely disagree and caution against steam mops on wood floors. As a good rule of thumb, we recommend you always check your floor's warranty (if still in effect) to be sure that using a steam mop won't void it. If you choose to use a steam mop for your sealed wood floors, we recommend you try out your steam mop first in a not-so-visible part or section of your floor to be sure it will work without causing any damage.
Compared to linoleum or tile floors, We found a lower level of satisfaction with the cleaning performance of steam mops on hardwood floors. while few users say the floor dried with streaks, other few say that the "scrubbing" pads included with the steam mop left scratches on their wood floors.
Overall, our advice is to be very careful before using a steam mop on any type of hardwood or laminate flooring type. However, if you have tile, linoleum, or most of the other common types of hard flooring, having one of the best steam mops may be your new best cleaning friend.
Important Tips for Using Your Steam Mop
For an effective and proper use of a steam mop, first confirm from your floor installer if it is safe to use a steam mop on your floor. Since most floors coating can get damaged by hot steam, it only makes sense to check if a steam mop can be used on your floor.
Prepare the room to be Steam Cleaned
Before you begin to use the steam mop to steam clean your floor, first perform a vacuum cleaning to take out loose dirt and pet hair. These can clogs up the mop cloth, thereby reducing the effectiveness of the steam mop.
Take your time, and let the steam do the work for you
Completely sanitizing an area requires continuous steam for 10 – 15 seconds. If a spot doesn't come clean after the first pass, just give it some more steam. While steam mops are designed to ease your floor cleaning, do not apply too much pressure when you scrub. This can put stress on it.
Read and Follow the Manufacturers instructions
Ensure you follow the manufacturer's guidelines for how to clean each surface. Each floor surface has its own quirks, so it's worth taking the time to get to know them before you start cleaning.
Use Clean Water
Even if you have great water filtration at home, the slightest mineral content can build up and clog delicate parts in the unit, hence the importance of using a well filtered/distilled water.
In Conclusion
Clean floors that are consistently clean without much effort may seem like only a dream, but with the help of a good steam mop, which obviously are the best steam cleaners for floors, nearly any sealed floor material, including tiles, hardwoods, and laminates can get deeply cleaned.
Even though steam mops (whether hardwood floor steamers or tile floor cleaners) can do some pretty deep cleaning, it's still not an industrial cleaning solution for really heavy accumulated messes. For floors with more than just surface stains or spots, we recommend you use a heavier-duty canister cleaner instead. The best canister cleaners have attachments for floors, and lots more cleaning power.
The Best Carpet Cleaners 2020 – Reviews and Buyers Guide.
10 Best Vacuums on the market – Vacuum cleaner reviews and buying guide.